Frontline News Articles are important news of the day with occasional commentary. This is from a conservative point of view.
News Articles
Editorials, and Opinion pieces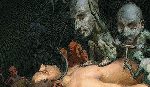 Cox The Reality of Demons is a simple fact of life. We should not focus on demons, but they are real and around us and fighting against us. A Bible study by Pastor Cox.