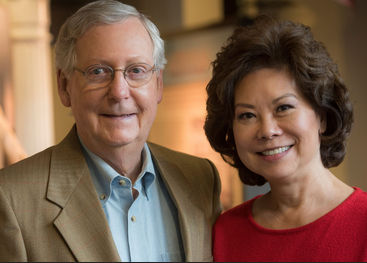 Mitch McConnell Profile is an analysis of Congressman Mitch McConnell, the head of the US senate.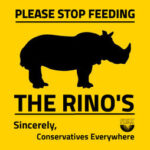 Donald Trump had his problems during his tenure as President of the United States. Although President Trump was and is formally a Republican, it would seem that the people that he picked for his administration turned out to betray him at every turn. These are at least nominal Republicans, but we know the extremist anti-Trumpers as Rhino Republicans (actually Republican in Name only or RINO), Republican in name only, but actually exactly like the Democrats, Swamp people. Then we come to Mitch McConnell.
First of all, Swamp People are professional politicians. They will trade their mother and their soul for a good deal. A lot of Republican politicians rode the Trump wave into town, and left Trump high and dry when he needed their support and help. This is a good sign of a Rhino. If there was a fatal flaw in Trump from the beginning until now, it is his difficulty in finding good people in his administration and with whom to work with in Congress that are not a part and parcel of the swamp. He cannot much help who he has to work with in the Congress, but remember Trump's mission was to drain the swamp, and these swamp creatures don't give in nor give up very easily.
Secondly, they appear pure Republican at times. Mitch McConnell has been identified as a faithful Republican, except when Trump needed him the most. So an analysis of good old Mitch is needed.
Some Facts from Wikipedia on Mitch McConnell
Entered Congress in 1985
He has been the Senate Republican leader since 2015 until 2021, the Senate Majority leader.
Mitch represents Kentucky
Mitch fought Republican cooperation with the Obama administration, i.e. he worked as an obstructionist.
Net worth is $30 million dollars[moneyinc.com]
So how did a US Senator which makes between $174,000 and $223,000 a year end up with $30, million dollars? From 1985 to 2021 is $6 million dollars no $30, and we would suppose that a goodly part of Mitch's salary was used to just live, travel to and from the Senate, and do his job. (How Mitch McConnell made his Money)
Birthdate: Feb. 20, 1942
Net Worth: $13.42 million to $54.56 million
Current Rank of All Congress Members by Net Worth: 43rd of 530
Primary Source of Income: Senate salary
Career Highlight: Longest-serving Senate Republican leader in the history of the United States
How did Mitch McConnell get so rich?
McConnell's net worth jumped significantly after the death of his wife's mother in 2007. His 2008 financial disclosure form lists a Vanguard Tax-Exempt Money Market Fund joint account worth between $5 million and $25 million that was a gift from his relative. In fact, most of McConnell's wealth comes from joint funds and funds held by his spouse (He married Elaine Chao in 1993). The value of the assets owned solely by McConnell ranges from $1.01 million to $2.17 million.

McConnell's primary source of income is his Senate salary. As the majority leader, he earns $193,400 per year. (gobankingrates.com)
So Mitch by himself doesn't seem to be so well off, but factor in his Chinese wife, they are wealthy. Not the most wealthy in Congress, but nothing to sneeze.
Elaine Chao's Relationship with China
"she (Elaine Chao) and her husband, Senate Majority Leader Mitch McConnell, have received millions in gifts from Chao's father, who used to run the company, along with political donations from her family."

The report said in addition to the shipping company, Chao's family has other ties to official China, including board positions in state companies and a close relationship between Chao's father and former Chinese President and Chinese Communist Party General Secretary Jiang Zemin. CNN

IN one report, Elaine Chao included her brother who is head of a shipping company that mainly deals with China, and is connected with the Chinese state in on state department meetings between Chao and Chinese officials. VanityFair.com

"Really, it goes to the fact that Mitch McConnell and Elaine Chao, his wife, are financially tied to the Chinese government," Schweizer outlined. "And it comes through the shipbuilding company that Elaine Chao's family owns. That relationship was forged in December of 1993 when James Chao, Elaine Chao's father, Elaine Chao, and the new son-in-law, Senator Mitch McConnell, visited Beijing, China, at the invitation of the China state shipbuilding corporation.

The result of that meeting and the deals that followed is that today the Chinese government finances the construction of the ships for the shipbuilding company, they build the ships, they provide the crews for the ship, and they provide the cargo for the ship. So, the Chinese government could pull the plug tomorrow on this business. And the reason they're doing business with them, let's make it clear, is because Mitch McConnell is a very powerful figure in Washington, D.C.

According to Schweizer, this is the "strategy" of the Chinese government across the globe.

"They seek out political elites and give them commercial deals," Schweizer stated.

"They are wedded to the Chinese," he added. "They don't want to anger the Chinese because they could destroy their families financially." gellereport.com

"Federal regulations prohibit federal employees from using their public offices for 'the private gain of friends, relatives or persons with whom the employee is affiliated in a non-governmental capacity,' " the lawmakers wrote in a seven-page letter to Chao.

The New York Times and Politico have reported that Chao may have used her Cabinet position to benefit the company and increase its influence and status with the Chinese government. China has extended hundreds of millions of dollars in low-interest loans to the company for the purchase of foreign-flagged ships. pacificpundit.com

A massive spike in McConnell's financial disclosures occurred in 2007 and 2008 following the death of Ruth Chao, with the senator's federal disclosure jumping from $3 million to $33 million in that two year span according to Forbes.

McConnell's re-election campaigns have received over $1 million in contributions from Elaine Chao's family, including James and Angela, according to a 2019 report from the New York Times. [nationallife.com]

AMERICA LAST, CHINA FIRST POLITICS AT DEPT OF TRANSPORTATION

Under Elaine Chao's tenure as Secretary of Transportation, the agency budget "has repeatedly called to cut programs intended to stabilize the financially troubled maritime industry in the United States, moving to cut new funding for federal grants to small commercial shipyards and federal loan guarantees to domestic shipbuilders" according to the Times.[nationallife.com]
I would note that while Elaine Chao y her husband Mitch McConnell are Republicans, the liberal news media attacks their connections with China as inappropriate. They are. Period. But the same news media ignore the many other Chinese connections in the Democrat party. How convenient.
From 7 Explosive 'Secret Empires' Facts about Mitch McConnell and Elaine Chao
1. CONFIRMED: Secretary of Transportation Elaine Chao's sister, Angela Chao, currently sits on the board of directors of the Communist Chinese government's Bank of China

2. CONFIRMED: Mitch McConnell and Elaine Chao received $5 million to $25 million from her father, James Chao, whose shipping company Foremost Group does massive deals with the Chinese government.

3. CONFIRMED: Since Elaine Chao became Transportation Secretary, her family's company Foremost Group has ordered 10 massive cargo ships from the Communist Chinese government's China State Shipbuilding Corporation (CSSC).

4. CONFIRMED: Since becoming U.S. Transportation Secretary, Elaine Chao and her father, James Chao, have appeared in at least a dozen Chinese media interviews, including foreign interviews that featured the Department of Transportation symbol and her father's book.

5. CONFIRMED: James Chao and his daughter Angela Chao sat on the board of one of the Communist Chinese government's largest military contractors.

6. CONFIRMED: Videos uncovered by Politico reveal James Chao on camera with Secretary of Transportation Elaine Chao signaling "guanxi"—the Chinese concept of personal power due to relationships.

7. CONFIRMED: Mitch McConnell and James Chao traveled to China as guests of the China State Shipbuilding Corporation (CSSC) and met with former Chinese President Jiang Zemin, a former classmate of Chao's.
NEW: President Trump Demands Impeachment of Mitch McConnell, Suggests the Traitorous RINO is Blackmailed
Comment: There will be NO GAINS for the Republicans because the process of making and changing laws will have to go through the Senate. If Mitch McConnell continues as Speaker of the Senate, all the work of the Senate will be determined by McConnell. He will simply refuse to present any bill that is MAGA and kill it in Committee's and scheduling. Our problems are BOTH because of the Democrats' radical agenda AND the Republicans milk toast attitude towards governing. McConnell has to go.